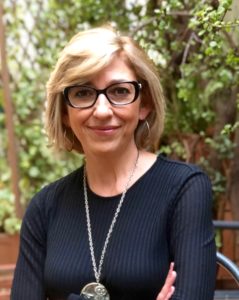 NOW: I'm a writer, reader, novelist, and flash fiction addict. I'm a knitter, cross-stitcher, cook, and wife. I've lived on four continents and four islands, some of which overlap. I speak Italian with a hint of Florentine in it, and my Spanish used to be terrific. My heroes are Stephen King and Roald Dahl and Carl Sagan. I hope King lives a long and healthy life for years to come, but when he's gone I'll be sending him an engraved invitation to my Dead Person's Dinner Party.
I'm the creator of VOX, a novel for which I have no genre yet, but if you can imagine Ira Levin's The Stepford Wives mashed with Margaret Atwood's The Handmaid's Tale, and sprinkle in a little neurolinguistics, you'd be on the right track.
To see what I write, click my Writing page.
On most days, you can find me in the Land of Styron and Barbecue. At other times, I might be hiding in a closet re-reading a tattered copy of The Shining or munching on street food in Naples (the Italian Naples).
THEN: In a previous life, I was a researcher at City University London, where I worked on an investigation of the acquisition, production and perception of rhotics (r-like sounds) in Standard Southern British English with colleagues Rachael-Anne Knight and Mark Jones. The now-completed ESRC project involved collection and analysis of child and adult production and perception of /r/. We examined the effects of ultrasound imaging on speech and the differences between perception of /r/-like sounds by speakers of different English dialects and built a database of ultrasound images of British English speech sounds.
The bulk of my research consisted of experimental and quantitative analysis of variable sound change. I worked on the effects of phonological, articulatory, perceptual, and social constraints on synchronic alterations, particularly in the domain of consonantal lenition. Other interests included the use of ultrasound in addressing questions relating to sound change, and further investigation of the Arabic and Sinhala languages. And yes, I really did give a thirteen-minute talk to a packed audience on the usefulness of Principal Components Analysis in deriving lenition constructs.
I also taught here and there: post-graduate courses in linguistics, phonetics, and phonology at George Mason University; Italian 101 at the same institution; an undergraduate course in articulatory and acoustic phonetics at Queen Mary, University of London; a phonology course at the University of Westminster; and academic writing/rhetoric courses at an engineering university in Abu Dhabi. Some samples of my acoustics lecture notes (for beginners, and unfortunately without all the fun animations!) can be found here and here.
My dissertation (Georgetown University, 2006) explored the consonant weakening process (Gorgia Toscana) in the Florentine dialect of Italian. I argued that a number of the patterns observed in Gorgia Toscana should be ascribed to complex interactions among multiple independent forces. The entire dissertation, based upon work supported by the National Science Foundation under grant number 0518040, may be found here. I came close to getting a Fulbright scholarship for the project, but you know, close only counts in horseshoes and hand grenades.
about this site
Last update: 7 May 2018
The original web template was found at the Open Source Web Design site and created in Macromedia Dreamweaver MX through brute force, patience, and remnants of Unix coding learned far too long ago. Thanks to Apple for effecting the demise of MobileMe, we're now using WordPress.
I believe in wide dissemination of research, and as such have included many of my papers, handouts, presentations, and course notes on this website. It goes without saying that, despite its presence in the ether, it's still mine. All mine. Mine, mine, mine!
Disclaimer: Any opinions, findings, and conclusions or recommendations expressed in this material are those of the author(s) and do not necessarily reflect the views of the National Science Foundation. They made me say that.