The last open letter I penned didn't go well. That was back in early 2018, just after I signed the deal with my publisher for a first book. I expect this letter will wreak more havoc on my writing career—and this time, there's more at stake. There's also less at stake. Because, this time, I don't really care. I'm prepared to move on if that's where the fates take me. The alternatives are soul-destroying.
My sin some years ago (many of you will remember the nuclear fallout) was asking the writing community to account for the de-publication and effective blacklisting of two male authors accused of online sexual abuse. Many stood by me; others did not. Writers blocked me, literary journals likely flagged my name with a large red X, and one writer went so far as to call me out by name as a supporter of abusers (said writer also mentioned she had a relative 'high up' in the New York publishing scene—hint, hint). I recall spending several weeks waiting for my debut novel's cancelation. All because I believe in something called due process.
Humor likes to creep in at every opportunity. So any humor won't be lost on me, the author of VOX, should I find myself on the hunt for a new job after writing a novel where women are forcibly silenced via draconian measures. It's a sad humor, the kind where no one can tell whether you're laughing or crying. But I think I'll laugh more if I speak up and cry more if I self-silence.
To illustrate what's at risk, let's look back at a few relevant scenes from the past years.
Responding (with usual Lionelesque humor) to Penguin Random House UK's freshly published goals to "reflect UK society by 2025" in its hiring and author acquisition, Lionel Shriver (think: We Need to Talk About Kevin) pushed back with her usual sarcasm. The women's writing magazine Mslexia summarily removed Shriver from a short story judging panel. (We have to ask — had they never read one of Shriver's opinion pieces before inviting her as a judge? I'm assuming not.) The upshot is that a supportive note I sent to Shriver not long after this brouhaha was well received, and we continue to correspond. In every cloud, as they say.
In early 2019, I watched YA novelists Amélie Wen Zhao and Kosoko Jackson have their books put on hold because of 'cultural appropriation' and 'insensitivity.' That the second of these writers was himself a self-proclaimed member of the Sensitivity Police should have elicited a certain schadenfreude, but I still recoiled at the bloodfest. I recoiled more at Zhao's and Jackson's public mea culpas.
Flash forward to 2020, when Hachette announced at the last minute they would publish Woody Allen's memoir Apropos of Nothing. The Farrow clan went a little crazy at the news, Ronan Farrow cut ties with the publisher, and dozens (dozens!) of Hachette's staff took to the streets in protest. Result? Hachette dropped the book faster than you can say 'Annie Hall.' It didn't really matter that Allen was never charged, or that his adopted son Moses had penned a lengthy blog post telling another side of the two-decade-old Farrow-Allen-Previn story.
More recently, two literary agents were burned at the virtual Twitter stake. Marisa Corvisiero committed the crime of calling for non-violent protests, saying, "This is how you do it. Make your point, take a stand and don't hurt other people or damage property in the process. No violence is acceptable ever. The whole point is to be heard and seen to make things better." Apparently, this was enough to send in the torch-carrying mob. Dawn Frederick of Red Sofa Literary Agency did what any concerned citizen might do when witnessing a looting in action: voice a desire to call the police. Because, you know, property rights. Frederick soon joined Corvisiero at the pyre.
Perhaps no one has been hit as hard by the active trans community as J.K. Rowling for her sarcastic tweet about what to call "people who menstruate." Of course, Rowling makes several solid points about women's rights, early-age transitioning (see recent articles on the Tavistock Clinic, such as this one), and feminism, but who cares? Off to the pyre she must march. Some self-righteous youngster even responded with, "god i hate jk rowling pls kill her for my 18th birthday." Fortunately, with punctuation like that, it's hard to take such a threat seriously. If you have difficulty finding a punctuation mark or the shift key on your laptop, think how hard finding a hired assassin must be. A sampling of death threats are below for your reading displeasure: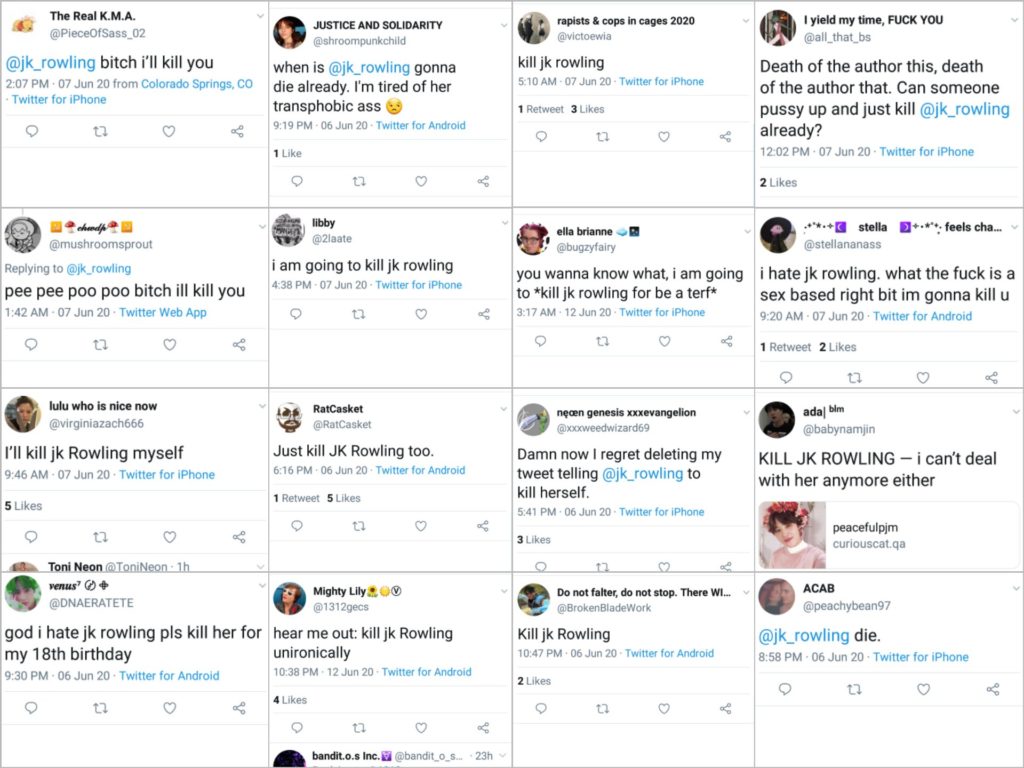 Here, and across the pond, we're witnessing do-gooders cheering like a mob gathered at a public hanging. Say "All lives matter," get canceled. Question the UK Black Lives Matter movement's commitment to "dismantle capitalism," get canceled. Have a problem with BLM-founder Patrisse Cullors saying "We're trained Marxists" in response to questions about her organization's ideology, you're a racist. Like the wrong sort of tweet, get canceled. And heaven forbid anyone use the hashtag #IStandWithJKRowling because they agree with even some of her concerns. Gillian Philip could tell you all about losing her job over that mortal sin. Or—and this is especially juicy—we could look at the signatories of the now-infamous Harper's Letter on free speech and talk about those few who "sincerely apologized" for adding their names—but only after they saw Rowling's signature on the roster. The Linguistic Society of America received a letter asking to rescind Steven Pinker's fellowship on the basis of some pretty shaky 'evidence' of Pinker's racism. (I note approximately half of the signatories self-classified as students, hardly a representation of the "linguistic community.") New York Times editorial page editor James Bennett was ousted after publishing Sen. Tom Cotton's (R-Ark.) op-ed advocating military intervention in US cities during protests. The staff, apparently, revolted. (A note for the curious: op-ed stands for 'opposite the editor.' Look it up, and tell me if you see the irony here.) As for me, merely questioning Woody Allen's culpability in light of the many exonerating facts in his case (I'm one of those people who really like facts) resulted in an author whose book I had blurbed shutting me out. I do hope the quote helped her sales, though.
Don't be fooled into thinking that even silence will get you a free pass. The Denver bookshop Tattered Cover embraced political neutrality in early June 2020. I've lost count of how many authors canceled online events with the store.
In short, few people have spoken out when the mob came a-running with their lit torches, their death threats, and their cries of "Sack her!" I can't blame them. Speaking out now is scary. The rules of engagement seem to change with the tides. So-called "hate speech" has little to do with intended hate and much more to do with perceived hate. If you doubt me, have a look at the UK's Hate Crime Operational Guidance, which clearly states on Page 5, "…the perception of the victim, or any other person, […] is the defining factor in determining whether an incident is a hate incident, or in recognising the hostility element of a hate crime. The victim does not have to justify or provide evidence of their belief, and police officers or staff should not directly challenge this perception." (The boldface is my own emphasis.)
Are we starting to see the growing appeal of sitting quietly in a corner?
And where does the author of a book called VOX fit into all of this? What is my role now? I've deactivated and reactivated my Twitter account five times in the past month, mostly for fear of saying the wrong thing. I self-censored, letting the loudest and most influential voices have their way. I've stood aside, busily typing my latest novel, believing that would offer some type of distraction and a shield from impending career suicide. I slapped an electric shock-inducing band on my own wrist.
What I discovered was that shutting myself up wasn't working. It's ironic, in a way, because when I was asked to write essays on the forced silencing of women prior to VOX's publication, I struggled. I couldn't come up with any personal experiences where I'd been mansplained, interrupted, over-talked, gaslighted, or had my speech restricted in any other way. Not by the so-called toxic patriarchy, at least. It wasn't until these past several months that I felt the sting of silence. And it isn't the patriarchy who wield the stingers.
I'm the writer behind "The Novel of the #MeToo Movement" (Time Magazine), "The Handmaid's Tale 2.0" (The Evening Standard), and "The dystopia where women are gagged" (Irish Times). I'm the woman who sent her readers into a frenzy of misogyny- and toxic masculinity-driven fear. I penned a frighteningly relatable, thought-provoking, and intensely disturbing story where half the population is forcibly silenced. I did all of that, and now I'm more terrified of opening my mouth in support of Shriver, Allen, Rowling, Pinker, and others than I am of coming down with a bad case of Covid-19. I suspect I'm not the only one.
As Cosmopolitan said about my book in which all women are gagged, "The real-life parallels will make you shiver."
They do, readers. They do. The thing is, gagging comes from all sides, even from those factions who find it theoretically reprehensible in a work of so-called feminist fiction where the wrong sort are behind the gagging.
I'm not talking about a consequence-free world. We all have the right to choose who we listen to, who we associate with, who we employ, and who we publish. When we extend that right to ruining careers on the basis of perceived harm (or, worse, on the basis of mob justice and kangaroo courts that eschew due process), we tread in different waters. We create a culture not of canceling, but of revenge, vilification, and hatred.
Those waters are dark, and they run deep, and our collective silence has repercussions, friends. Those repercussions are far more serious and long-lasting than the loss of a job or a book contract.
Maybe it's time to start talking.