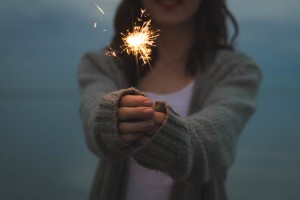 That's right. While I sit here in Jerez, wondering when I'll catch a hop back to The Land of Styron and Barbecue, I'm thinking. Contemplating. Writing a script in my head and picturing a bright, Art Deco marquee with all your names on it, scrolling in some infinite while-do loop.
I love this image and I love the cast of characters. Because I can say with all the surety of an infallible pope that I would not be here without y'all.
So, here we go, lighting up that marquee one name at a time in a rough, if-memory-serves-me sort of order of appearance. Trigger warning: this is gonna be a long post, and there will be exactly zero animated GIFs.
Note: every name appearing below belongs to a kick-ass writer, editor, agent, or reader. Please show them some love by checking out their work, submitting to their magazine, querying them (nicely), or just thanking the stars these kinds of crazy-hard-working, talented, and supportive people exist. They make the world a better place. They certainly made mine better.
The Scribophile FLash Crowd
Yes, everything started over Scribophile, although I've no idea how I found the site (or the Flash Group, or the 100 Credits Club) in the first place. Sincere thanks to all of you (and Kathy Steinemann especially, because that woman sends out a personal welcome note to pretty much every new Scribo member within seconds) for getting me going in the flash fiction business back in early 2015.
Christopher Iacono, Daniel Lind, Sylvia Heike, Dino Laserbeam, Eliza Archer, Jen Todhunter, Filip Wiltgren, R.L. Black, Robin White, Flexi Rees, Ion Corcos, Paul Hamilton, Anna Zumbro, Natalia Theodoridou, Nolan Liebert, George Wells, Ani King, Eliza Loizides, Anton Rose, G.V. Anderson, Carla E. Dash, Lauraak, Georgene Smith Goodin, Matthew Hughes, EJ Noyes, Josh Jones, Thomas Czarnik
The Critique Partners (Novels)
By some miracle, you made it through early drafts that even I don't want to set eyes on again. Sincere thanks to:
Bud Jillett & Elizabeth Davies for helping me polish the first Danny Jones thriller
Charlotte Levine Gruber for tackling revision after revision of DJ, FS, and TILOMG
Taylor Gruber for diving into FS
Stephanie Hutton for speed-reading VOX
Bruce Dalcher for reading every single word more times than he wanted to
The marvelous Jude Higgins
Hey, Jude, you get your very own section because you tweeted an invitation to write a story a day with you in April 2015. I didn't know you; you didn't know me. And I sure as hell didn't get thirty stories written in that month. But a few, yeah. Thank you, Jude, for your wonderful work with Bath Flash Fiction, for organizing the festival (which I'll be at in July!), and for that beauty of a prompt that made me run for the nearest dictionary: Catkins. Huh. Who knew?
The Syntax & Salt Team + Ani king
With Ani King in the lead role here, we know it's going to be a solid magazine. Not only did you publish my odd little two-headed story with the unpronounceable name…Not only did you pick it as your Editor's Choice for that issue…Not only did you nominate it for a prize…
You invited me to join the staff of Syntax & Salt! I read slush with some lovely people, take care of the shout-outs for our writing family when they have cool news to report, and I learn a ton. Since it was your masterpiece of experimental flash "Conjugate 'To Be,' Using Complete Sentences" that was my very first flash read, I think you deserve a trophy or something.
The FlashForce Four Five Six Five Four
We've grown and shrunk and shrunk and grown, but I am beyond grateful for your gentle and honest advice, even if it *occasionally* rhymes with "Tine, take a goddamned break, will you?" Y'all made me, and continue making me, a better writer. I couldn't ask for better teachers. Thank you,
Stephanie Hutton
Sophie Van Llewyn
Kayla Pongrac
Tara Isabel Zambrano
The Twitterary Universe
At some point, the madness will need to end, and I can't possibly name every single one of you. If I did, I'd end up writing a paragraph for everyone, and we know where that would lead. So, if anyone reading this wants to know who I love (or craves exquisite flash fiction), check that list of Twitter people I follow. Off the top of my head, I'll ramble a few names off. They rhyme with:
Aeryn Rudel, Al Kratz, Alex Reece Abbott, Alice Kaltman, Alva Holland, Annie Neugebauer, April Bradley, Becca Borawski Jenkins, Bill Adler, Caleb Echterling, Charmaine Wilkerson, Chelsea Cohen, Chloe Turner, Christopher Allen, Christopher Drew, Christopher Stanley, Claire Polders, Clodagh O'Brien, Damhnait Monaghan, Dan Koboldt, David Cook, Diane Simmons, Dorothy Rice, Emily Devane, Fred Senese, Gaynor Jones, Helen Rye, Jad Josey, Jan Keenan, Jan Stinchomb, Jan Elman Stout, Jennifer Harvey, John Holland, Jolene McIlwain, Josh Jones, Judi Walsh, Julia Kantic, Karen Jones, Kathy Fish, Kristin Bonilla, Lazarus Gray, Lee Hamblin, Lis Ingram Wallace, Lori Sambol Brody, Louis Rakovich, Louise Mangos, Maria Haskins, Mark Budman, Matt Neil Hill, Maureen Langloss, Meg Tuite, Melissa Goode, Michael Carter, Michael Loveday, Michele Finn Johnson, Mr. Bear, Nicholas Cook, Nick Sagan, Philip Webb Gregg, Robert Barrett, Robert Vaughan, Ron Gibson, Sharon Bennett, Sharon Telfer, Siobhan Welch, Steve Cambell, Steve Lodge, Tino Prinzi, Tommy Dean, Tom Gumbert, Victoria Richards, Wiebo Grobler
The Agents
You answered questions, read queries, requested partials/fulls, and sometimes even offered me representation. Cheers to some of the hardest working people I know:
Laura Bradford, Alec Shane, Chris Bucci, Bob DiForio, John Silbersack, Jane Dystel, Erin Niumata, Jennifer Johnson-Blalock, Beth Phelan
The Editors & The Lit Mags
You like me. You really like me. And I like you right back. Special call-outs to Josh Goller and Mary Lenoir Bond over at The Molotov Cocktail for publishing my very first piece of flash back in April 2015. And hugs galore to:
Nolan Liebert, Pidgeonholes
George Wells, Zetetic: A Record of Unusual Inquiry
Suzanne Lucas, Saturday Night Reader
Platform for Prose
Dawn Ius, Vine Leaves Literary Journal
Robin White, Duckbill Anthology
Matthew Guerruckey & Natasha Narkiewicz, Drunk Monkeys
Sarah Kedar, The Fable Online
Mallory Smart, Maudlin House
Carol Wright, Bethlehem Writers Group
Michael Prihoda, After the Pause
Kellee Kranendonk, Youth Imagination Magazine
Andrew Kaye & Eileen Lavelle, Defenestration Magazine
Cheryl Anne Gardner, Apocrypha and Abstractions
Ani King, Syntax and Salt
Paul Hamilton, 200 CCs
Tim Sevenhuysen, Fifty-word Stories
Grace Black, Ink in Thirds
Jude Higgins, Bath Flash Fiction / Ad Hoc Fiction
Nathan Alan Schwartz, Five 2 One Magazine
Glen Phillips, Front Porch Review
Alisa Golden, *82 Review
Spencer Chou, The Nottingham Review
Justin Daugherty, New South Journal
The Rain, Party, & Disaster Society
Nathaniel Tower, Bartleby Snopes
Christopher Monks, McSweeney's Internet Tendency
Val Gryphin, Typehouse Literary Magazine
Sheldon Lee Compton, The Airgonaut
Chelsea Voulgares, Lost Balloon
David Borrowdale, Reflex Fiction
Marvin Shackelford, Succor Press
DS Davidson, Tigershark Magazine
Loren Moreno, Atomic Micro Press
Rob Parrish & Robert Vaughan, (b)OINK!
Kolleen Carney, NonBinary Review/Zoetic Press
Chris Fielden, Adverbially Challenged
Catherine A. Brereton, Solidago Journal
David Shakes & Steph Ellis, The Infernal Clock
Adam Carrière, Danse Macabre
Joanne Merriam, Upper Rubber Boot Books
Kaitlyn Andrews-Rice, Split Lip Magazine
Callum Kerr, Flash Flood
Nortina Simmons, Sediments Literary Arts Journal
Ella Weaver, Crab Fat Magazine
Kelly Fitzharris, Sick Lit Magazine
Leesa Cross-Smith, Whiskey Paper
Jacquelyn Guderley, Salomé
Steve Campbell, Ellipsis Zine
Miles Jones, The Short Story
Tino Prinzi & Jude Higgins, Bath Flash Fiction Festival Anthology
Adam Farrer & Kate Feld, The Real Story
Abby & Bridie, Dear Damsels
Steph Ellis, Trembling with Fear (Horror Tree)
Mary Lynn Reed & Lesley C. Weston, MoonPark Review
Sarah Miles, Paper Swans Press
Benjamin Drevlow, BULL
Stephen R. Smith, 365 Tomorrows
Amanda Saint, Retreat West
Jennifer Porter, The Tishman Review
Kerri Farrell Foley, Crack the Spine
Katie Marsden, DNA Magazine
Simon Webster, The Cabinet of Heed
Ingrid Jendrzejewski, FlashBack Fiction

That's all folks.
Except for one tiny little thing I have to tell you.